Official Track Listing Is As Follows:
DEVO
Pioneers Who Got Scalped (An Anthology)
Rhino R2 75967
Release Date: April 25 2000

Disc 1
1. We're All Devo! - Boogie Boy & General Boy
2. Jocko Homo (Booji Boy Version)
3. Mongoloid (Booji Boy Version)
4. Be Stiff (Stiff Version)
5. Uncontrollable Urge
6. (I Can't Get No) Satisfaction
7. Too Much Paranoias
8. Come Back Jonee
9. Triumph Of The Will
10. Smart Patrol/Mr. DNA
11. Secret Agent Man
12. The Day My Baby Gave Me A Surprize
13. Soo-Bawlz
14. It Takes A Worried Man
15. Girl U Want
16. Freedom Of Choice
17. Gates Of Steel
18. Whip It
19. Snowball (Single Version)
20. Mr. B's Ballroom
21. Working In The Coal Mine
22. Love Without Anger
23. Through Being Cool
24. Jerkin' Back 'N' Forth
25. Beautiful World
26. Nu-Tra Speaks - New Traditionalist Man
Disc 2
1. Peek-A-Boo!
2. That's Good
3. Big Mess
4. One Dumb Thing
5. Theme From Doctor Detroit (Dance Mix)
6. Shout
7. Here To Go (Go Mix Version)
8. Are You Experienced?
9. I Wouldn't Do That To You
10. Bread And Butter
11. Let's Talk
12. Itsy Bitsy Teenie Weenie Yellow Polka-Dot Bikini
13. Baby Doll (Devo Single Mix)
14. Disco Dancer (7-Inch Version)
15. Some Things Never Change
16. It Doesn't Matter To Me (Live, 1988)
17. Stuck In A Loop
18. Post Post-Modern Man
19. Head Like A Hole
20. Thanks To You
21. Communication Break-Up
22. Duty Now For The Future! - General Boy
23. The Words Get Stuck In My Throat (New Recording)
Devo Whips Up 2-CD Anthology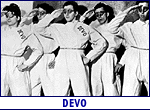 Rhino will release the 2-CD Devo anthology, "Pioneers Who Got Scalped," on April 25. The collection features hits, unreleased tracks, and soundtrack contributions from the pioneering new-wave band, which came to fame in the late '70s but has remained relatively inactive in recent years.
Among the rarities included on "Pioneers" are "One Dumb Thing," which was used in the CD-ROM game "Interstate '82"; b-sides such as "Nu-Tra Speaks" and "Soo-Bawlz"; and two previously unreleased songs from the soundtrack to "Meet Wally Sparks."
The set also features "The Words Get Stuck In My Throat," a new song recorded exclusively for "Pioneers." As expected, the band's trademark covers of the Rolling Stones' "(I Can't Get No) Satisfaction," Jimi Hendrix's "Are You Experienced," and Nine Inch Nails' "Head Like A Hole" are included on the album.